Our Intrepid Reporter: So, you were there from the very beginning, right back when clueQuest was created! What was that like?
That first period was fantastic, we were all so full of enthusiasm - full of energy and optimism! When we opened that first room we were always so excited when we got a reservation. I was there for the first three to four weeks, running the room and doing resets after each game. I loved to see how much people were enjoying themselves!
OIR: And you've got experience running escape rooms - you ran your own escape room in Hungary!
Yes, it was circus themed! Players had to find a code to open the circus' door, whilst also finding the keys to the animals' food, all while pretending to be agents of a huge international agency. It was really important to me that it was enjoyable for both children and adults. My friend and I ran more than three hundred games; it was wonderful.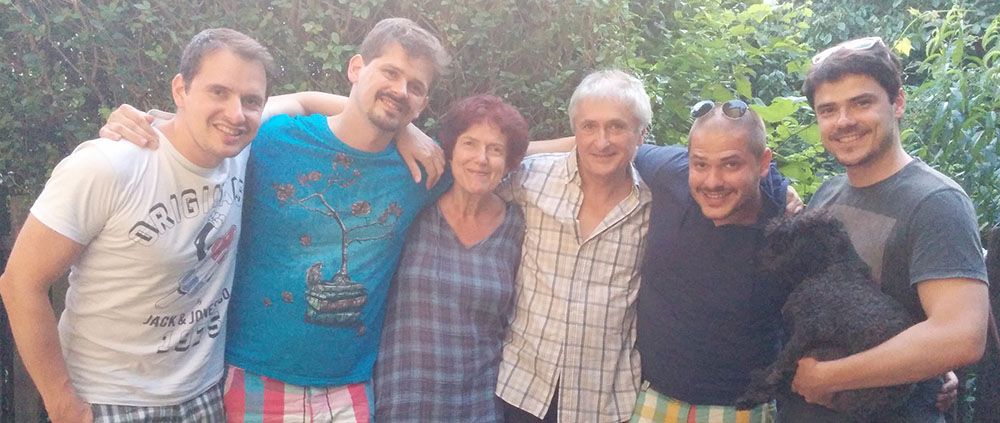 Photo: clueQuest founders and their parents in 2014
OIR: What's your favourite thing about clueQuest being a family business?
I have four sons, and each of them has very different personalities and skills - they get their strong personalities from their parents! So clueQuest being a family business has been a great learning process for us. The best part is our ability to find effective and friendly ways to communicate. All of us have had to learn the art of listening to each other and our employees. We've had to become good leaders and team builders. And I say 'we' because we, the parents, are part of the process now just as we were at the beginning!
OIR: What does motherhood mean to you?
It's that feeling of inner peace and pride when I look at my sons and their partners. I like being a mum, and I love the time I spend with my children. They've grown up now, but they'll always be my boys - their happiness is my happiness! And I've got my grandchildren, who are spectacularly beautiful gifts in my life. It's another opportunity to enjoy little human beings growing up!
OIR: And lastly, who is your favourite character in the Mr Q story?
Oh, definitely Mrs Q, I love her! She's a good supportive partner to Mr Q, and she's got a great sense of humour! 
If you're looking for a way to tell your mother you love her this Mother's Day, why not spend some time with her and do an escape room? A great way to show her she's your world is by saving the world together! Check out our gift vouchers, now with a Mother's day design.