Step 1: Snacks and drinks
Make funny and scary delicacies for yourself at home. It's a great way to get in the Halloween mood and the bonus: you can spend some fun time with your family making them. Here are our favorite snacks and drinks:

Step 2: Dress in costume
Maybe you've been planning your costume for a long time. Then don't let your great idea go to waste! 
You will look just as great at a party at home. Dress in your costume and shine in it (of course not like Edward fromTwilight [unless you want to]).
If you don't have any costume ideas yet, it's okay. You can find plenty of inspiration while surfing the net, just look around on Pinterest, Instagram, or Google. If you don't want to deal with this much, choose an easy to implement or handmade costume. We especially recommend the zombie,vampire or skeleton look. These can even be solved with some makeup and a quick tutorial. Or just throw a bed sheet over yourself and BOOM, you're a ghost!
Step 3: Get the Halloween special edition of Print+Cut+Escape
Print+Cut+Escape is a printable escape game that brings the atmosphere of escape rooms into your home (if you haven't heard of it before). Sounds good doesn't it? The Halloween special edition of our game is real life survival training that helps you fight the scariest and most evil creatures of the dark night who want your brain or blood (or both, we cannot be sure). And you don't want to fall victim to them, do you? Then we recommend that you definitely do this special training!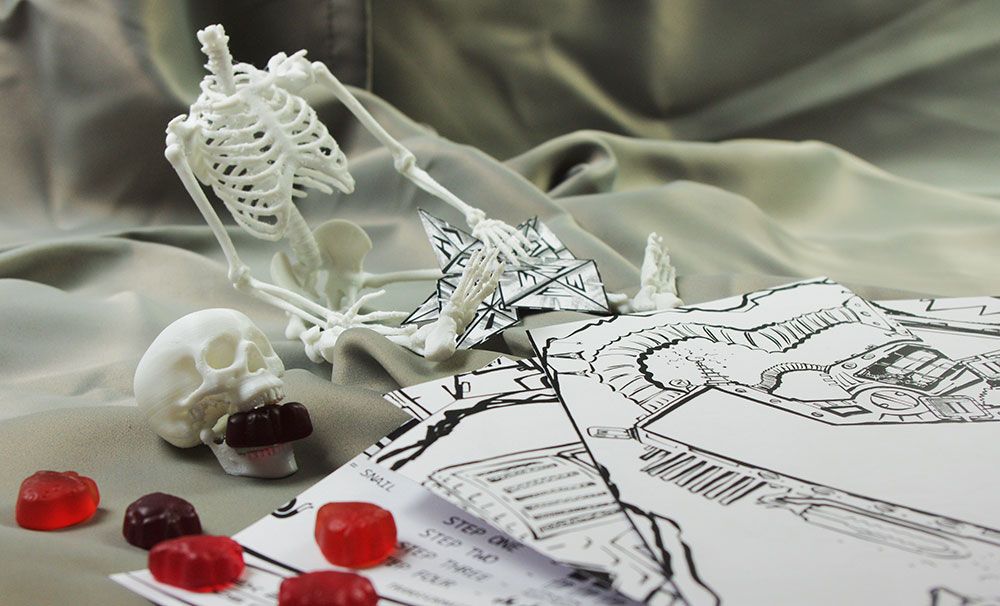 Step 4: Prepare the game
If you are familiar with our Print+Cut+Escape games, then you know what comes next (whisper: cuting out). But when you play for the first time, we'll tell you what to do. Print the game's PDF document, grab scissors and cut out every piece of the game. Organize each chapter to make it easier to use during the game. Finally, make sure you have the link to the Online Game System at hand. And here's a little extra help if you want a Zoom party with your friends.
Step 5: Watch a movie
After a hard training session you can enjoy a little rest (in peace). While you are at home, don't miss the chance to watch scary movies. Halloween is the perfect time to get scared while watching horror movies. Of course, it doesn't necessarily have to be very scary (think of the kids!). But if you want really scary fun, here's a top 100 list of the best horror movies.
You now have everything to have a fantastic, fun evening on October 31st. Start preparing now!