PLANT A SPRING GARDEN
Spring is the season of flowers, and so many of our favourites come into their own at this time of year: tulips, peonies, and of course, the classic daffodils! Spend some time planting some of your favourites and watch them bloom. If flowers aren't your thing, succulents make for a beautiful, low-effort burst of colour. If space is an issue, a window box or mini plant pot can brighten any room they're in. 
VISIT A FARM
Is there anything more fun than making yourself a packed lunch and heading down to a farm for the day? Many London farms offer activities like interacting with animals, riding tractors and even an Easter egg hunt, and there are plenty of farms to pick from. Go and see all the newborn lambs, but make sure that none of them are the Professor in disguise!
Another great idea is wandering around your local park, and seeing how many new arrivals you can find - Spring is exactly when ducklings start showing up!
PLAY OPERATION E.G.G.
One of our favourite Print+Cut+Escape games is Operation E.G.G., in which the Professor attempts to poach clueQuest's latest technological marvel - the Elastic Gateway Generator! Get together a cracking team, and give your brains some eggs-ercise as you try to stop him (yes, yes, these yolks are awful…!). You can buy your own copy of the game here.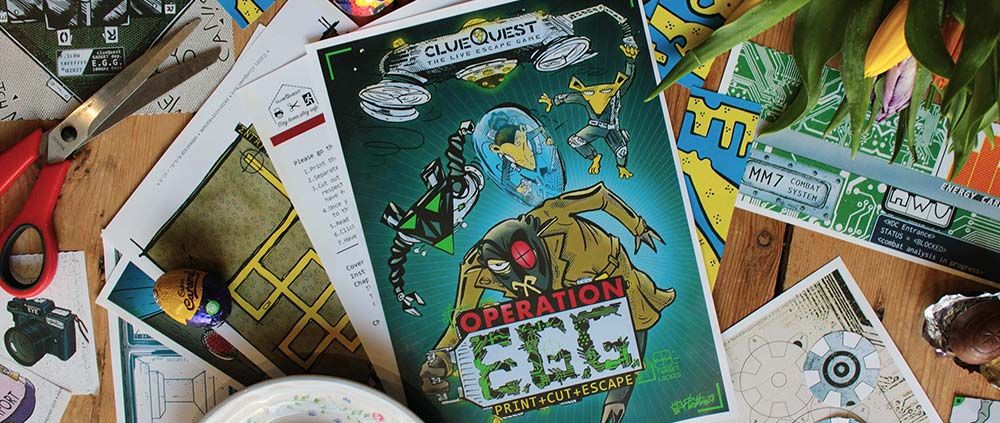 MAKE SOME COLOURFUL CAKES
If you have a sweet tooth, now is a great time to indulge in the light flavours that didn't suit Winter. Try a taste of tart lemon cake, or really experiment with meringue! If you want something quick and fun, break out the pastel food colouring and make icing full of the colours of Spring. Just remember to share your delicious baked goods with certain intrepid reporters…
PLAY AN ESCAPE ROOM
Of course we had to suggest this one! Take springing into action literally, and come to clueQuest to save the world! You can book one of our four escape room missions here.