We have a really difficult year behind us. How hard was it to work because of the coronavirus?
Like everybody else, work became very uncertain at the start of the pandemic. Everything was planned and normal before the lockdown and then, everything changed very swiftly. Whilst we spend a lot of time on Thrill Nation, we have full time jobs outside of running our website and socials. So whilst we went on furlough for a period of time from our main job, it allowed us to catch up on a lot of boring admin stuff and keep productive that way. After things started to normalise, we returned to our full time jobs remotely which we still do now.
With Thrill Nation, everything remained the same as this is something we do in our spare time. It just allowed us to spend some more time on other parts. Such as allowing us to run quizzes and update our website.
Initially you were showcased theme parks later you've extended your focus to other things too, but how did the pandemic changed your area of interest or operation?
Thrill Nation always started out as reviewing theme parks within the UK but we were fortunate enough to expand to so much more. We were already reviewing anything thrilling and fun in the UK and also Europe before the pandemic. The pandemic did put a lot of our plans and content ideas down the drain very quickly and has its challenges still, with abroad content anyway!

With this said, virtual escape rooms started to become the next big thing alongside other virtual entertainment. We then made this our goal to cover some of the best. This did limit what we usually cover but this opened up a new adventure for us at Thrill Nation. It allowed for us to try escape games all across the world and this new form of entertainment kept us occupied until the world normalised.
Have you learned anything from what happened in the last year? Is there anything you'll do different than before?
Myself & Dean always lived life to its fullest prior to the pandemic and we still do now. We manage to do what we could through the pandemic within the restrictions and make what we could during a very difficult time for everybody.
What did you miss the most and the least in the past year?
We missed travelling. We travel so much to new and exciting places to try new theme parks and other adventures. Lockdown really impacted that and pushed some really exciting plans further and further back. We also missed physical experiences such as escape rooms and other immersive adventures. Whilst virtual experiences were great, they didn't fully fill the void and didn't feel the same.
We didn't mind missing out on some horrible queues at places we were due to go!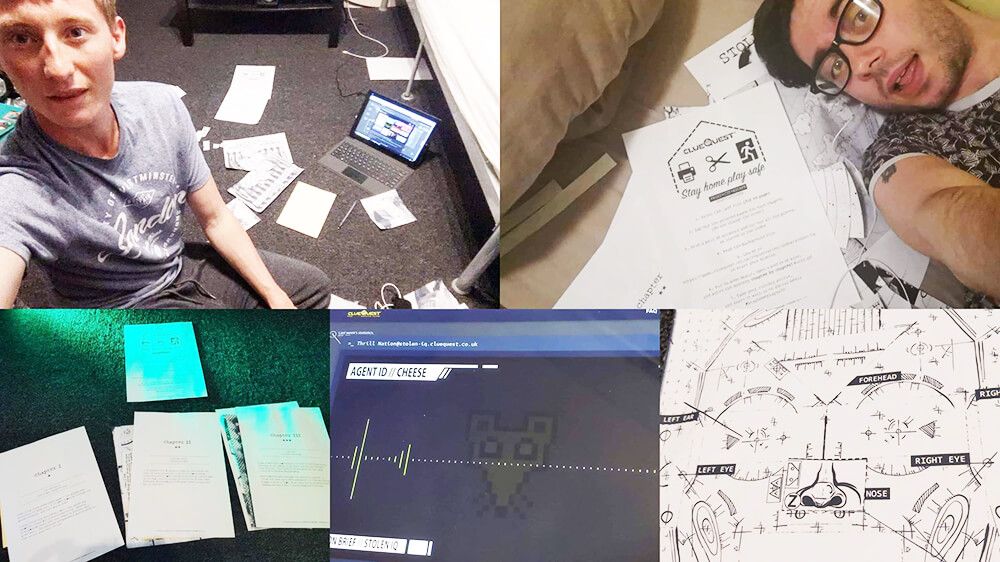 You tried our live games and Print+Cut+Escape games as well. Which one did you like more?
We've been fortunate enough to experience all of the physical games at clueQuest HQ and almost all of the Print+Cut+Escape games. The physical games were some of the best we have ever played and they are so different to your average games. For this reason, the physical games will always take the advantage compared to the virtual / paper based games. Print+Cut+Escape was such a different adventure however, taking cleverness to a new level and how puzzles could be made and hidden throughout drawings and videos. It was great these games were able to be created really, as this allowed us to enjoy so many more new adventures in the clueQuest world!
In your opinion how relevant will be the home playable escape games after the pandemic is gone?
This will be the interesting thing to see over the remainder of 2021. I think home playable escape games should remain as this allows people from all over the world to come and experience rooms they may never be able to experience otherwise. I think there will be a dip over the summer for these types of experiences but over the winter period when people will be spending more time at home, I think there is a chance they could be popular once again! They are perfect for all types of occasions also.
Our game designer, Gigi created a drawing for you. What was the occasion and where was it placed?
Gigi was very kind to design some artwork for myself over the lockdown period. I got in touch as I love clueQuest and the characters, plus Gigi is very talented with his cartoon sketches which are showcased throughout the Print+Cut+Escape games and at clueQuest HQ.
As most people were spending more time indoors and I couldn't spend money on trips abroad, most people turned including myself to improving the house. With my bedroom, I had some space above my bed which would of been perfect for some unique artwork. This is when I spoke with Gigi and were fortunate enough to get the artwork created.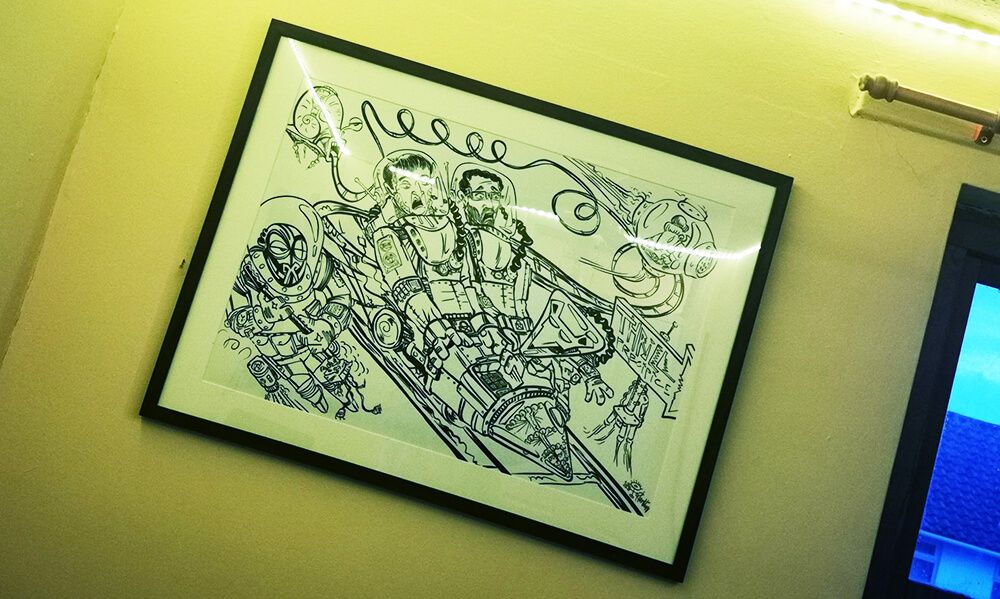 It features the main clueQuest characters on a coaster of doom as such, with Professor Blacksheep trying to cause destruction as he usually would. The theme was to include Thrill Nation, a roller coaster, some scare attraction theme and something different. I think it really hit that chaotic description perfect! Also Gigi couldn't help himself as he hid a secret puzzle within the image! Can you solve it?
If that's not enough and you want to know more (we hope you want!), check out Thrill Nation's website, facebook and instagram!