Need some inspiration? Here are what some of our ghoulish gamesmakers are dressing up as this year!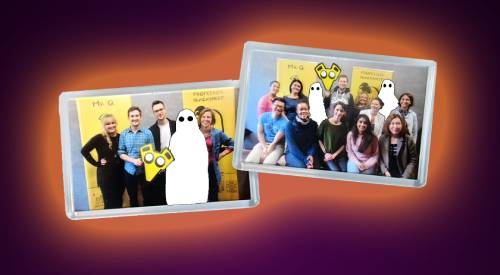 Agent Rowen is going as Black Swan! Do ballerinas do the Monster Mash?
Agent Yasmin will be the beloved member of the Scooby Gang, Shaggy! We'll be looking forward to her showing off her sandwich skills…!
Agent Eli is dressing as Violet Beauregard, the gum-chewing guest of Mr Wonka! Her trick or treating candy standards must be high!
Agent Millz is stepping into the past as a Pierrot Clown! They're bringing some culture to clueQuest this October!
Agent Josh will be dressing as Captain Lee from Below Deck. This reality sea-farer will make for a very so-fish-ticated look!
Agent Freya is going as SA Dr Spencer Reid from Criminal Minds. Let's hope she has more luck than Spencer does!
Agent Brent will be dressing as Batman with his son Robin as… Robin! Solving crime and running sales is a family business!
You can book an escape room to go along with your bewitching costumes here.