Back in December, we've asked our agents to write to Mr Q for a chance to win a £1,500 donation for a cause or charity close to their hearts. Jinita and her friends decided to take a more creative approach to this challenge and signed their letter on behalf of ...The Grinch. The entry melted hearts and received over 1200 votes from members of the public.
We wanted to learn more about SRMD UK and the team behind the winning letter, so we spoke to Jinita Doshi.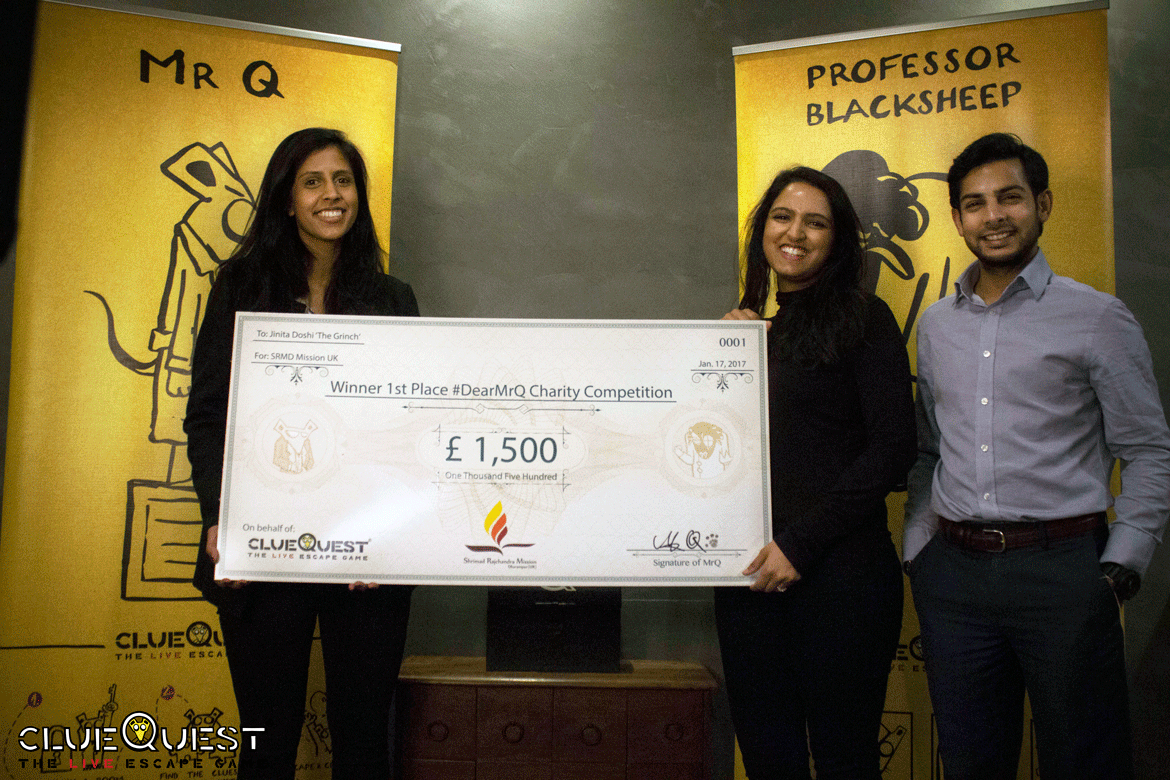 (From left to rigth) Namrata Virani, Jinita Doshi and Bhavik Udani with the £1,500 cheque at the clueQuest HQ
Please tell us a bit about yourself & your connection to SRMD Mission U.K.
My name is Jinita Udani, I am 26 years old and have a very close affiliation with SRMD UK, SRLC's umbrella charity. It has become a cause very close to my heart in recent years due to its innate kindness towards any person or animal it comes across as well as the strong values and principles it is guided by. Seeing hundreds flock to help any activity SRLC UK sets out to do, ranging from feeding the homeless, spending time with the elderly or decorating an animal shelter, restored my belief that amidst all the war, terror and fear in the world the good is ongoing by those who want to make a difference. Following the SRMD organisation from a spiritual perspective, SRLC forms an arm which I connect myself to very closely.
How did you feel about winning the #DearMrQ competition & have you met MrQ before? :)
I felt delighted to win the #DearMrQ competition, as I knew the proceeds would go towards helping a great cause. I have never met MrQ before, but it felt wonderful to know that there are people and organisations wanting to contribute in any way they can to help the less fortunate. In today's world it is easily forgotten to stop and think about those who are struggling, but things like this are a great initiative, helping to bring me back to reality and think of others.
Whose idea was it to write to Mr Q from The Grinch's perspective (because it was brilliant!)?
Myself and a few friends who also participate in activities undertaken by SRLC UK worked together to submit the entry. We were unaware about the process and expectations of the judges and so we wanted to add a creative twist to our letter. We were initially playing with the idea of writing it from the perspective of Santa, but then settled on The Grinch. We found this most effective, because the magnitude of those less fortunate is so great that it can even touch the stone heart of someone like The Grinch who is always associated with being cold and unloving. There is so much suffering in the world that we thought writing in from The Grinch's perspective helped identify the magnitude of suffering.
We understand that behind your winning letter there was some proper teamwork; therefore, whom would you like to give special thanks to for helping out with the entry & what was their role?
Being close to the charity organisation, as a group of friends we are always looking for new projects and initiatives SRMD UK can undertake. For this Namrata Virani, who participated in a ClueQuest experience and received the mail shot detailing the competition spread the word. She was instrumental in encouraging an entry from SRMD UK, so we drafted the letter together and asked Mr Ashwin Mehta, a trustee of SRMD UK, to confirm he was happy for us to proceed. Having received the green light, we sent our entry to ClueQuest and spread the word to friends and family to vote. For this I would like to give special thanks to our group of friends who brought this to life; Namrata Virani, Bhavik Udani, Khushbu Mehta, Rohan Sheth and Avni Doshi, as well Ashwin Mehta for reviewing it for us. Additionally, friends and family the world over, encouraged us with the entry and spread the word to all to vote.
Please tell us more about SRMD Mission UK, its SR Love and Care initiative and what charitable activities it covers in the UK.
The Shrimad Rajchandra Love and Care (SRLC) programme is an initiative to offer service and bring joy to the lives of underprivileged sections of society. The unique ten-fold programme is based around 10 cares promoting the welfare of people, animals and the environment, which has been successful in touching over 1 million lives across 50 cities worldwide. Forming an arm of the wider SRMD organisation, Love and Care has worked across a holistic portfolio of over 50 charitable initiatives thus far. Having been established in 2010, SRLC has global branches connected by its headquarters based in India.
How will the £1,500 be used by SRMD Mission UK?
The donation was given to the Watford-based National Animal Welfare Trust (NAWT) by Mr Oliver Dowden, MP of Hertsmere on behalf of SRMD UK on 27th January 2017. The £1,500 contribution was doubled with a matched donation from SRMD UK of £1,500; the total amount summing up to £3,000.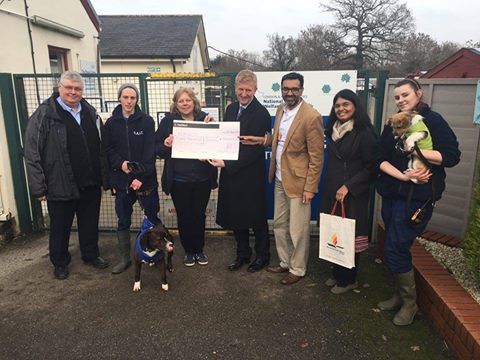 Last year, the centre successfully found a loving home for over 400 abandoned animals including dogs, cats, rabbits and guinea pigs. The funds will be spent on a dog enrichment area where families can spend time playing with their prospective dog, getting to know them in a homely and comfortable environment. The main aim behind the project being to help adoption rates of animals, enabling them to enjoy a better quality of life.
The works at the centre aim to be completed by April with the help of SRMD UK and local volunteers and an opening ceremony for the project is planned for early May.
If the clueQuest team does a good paint job for the animal shelter, would you consider keeping in touch for future charity activities/events? :)
We would be extremely happy to maintain a relationship with ClueQuest moving forwards and hope to work on future endeavours together.