For those of you who don't know, clueQuest was set up by the four Papp brothers. We are all from Hungary originally, although some of us have since moved to London, of course! We usually celebrate Easter together as a family in our hometown, and this year we won't be able to, which is so sad.
One thing that makes us especially sad is that it's going to be hard for us to share gifts with our loved ones this year. In Hungary, it's customary to give chocolates and sweets, but also nuts and oranges, and sometimes even actual boiled eggs. We know that here in the UK it's more about Easter eggs and hot cross buns, and we are here for that! No matter what you're used to giving, we're guessing there will be a lot less physical gift-exchanging this year.
We've been thinking, and we have an idea that just might help.
Print+Cut+Escape! as a gift
If you're looking for a gift you can share virtually, you could consider our new printable escape game, Print+Cut+Escape! It's so easy - simply make the purchase on our website, and forward the confirmation email to your loved one.
This would be the perfect Easter gift for an escape room enthusiastic, or pretty much anyone who likes solving puzzles and having fun! You can find out more about Print+Cut+Escape! here.
Psst... Don't forget to encourage your loved one to share their victory selfies with us using the hashtag #PrintCutEscape - we love seeing our agents in action!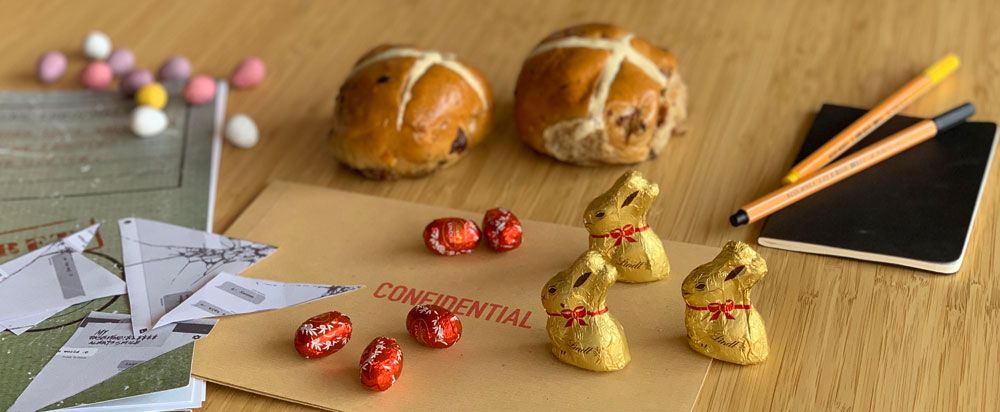 Our Easter gift to you
We also have a little gift of our own, to say thank you for your loyalty in this difficult time! Our Creative Director Gigi has designed this Easter colouring booklet for you and your family. Simply download it here, print it out, and get colouring. We would love to see the finished product, so don't forget to tag @cluequest in your social posts.
We hope you have a wonderful and safe Easter, agents! Who do you know who would love to receive Print+Cut+Escape!? And who do you wish would buy it for you? :P